Excavating the Armory
October 14, 2017

to

October 15, 2017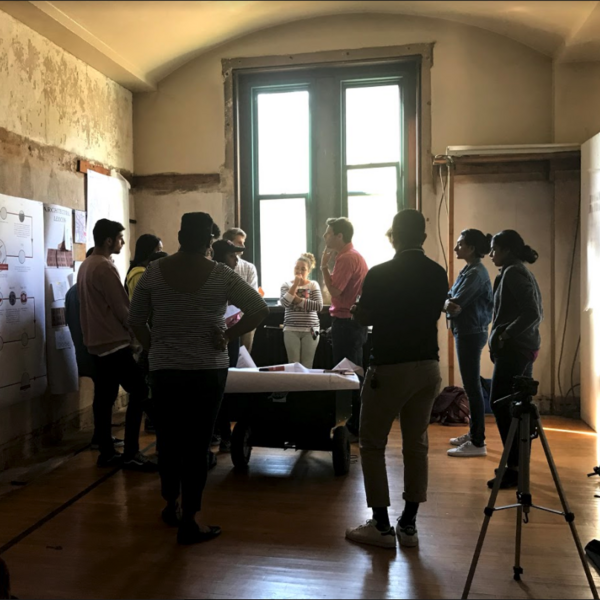 A participatory exhibit about the past, present, and future of the New Haven Armory on Goffe Street. Excavating the Armory launched at City-Wide Open Studios Armory Weekend, October 14 & 15, 2017, and continues as an online forum and citizen organization with the goal of conserving the Armory as a shared civic resource.  We join those who care about the future of the Armory and invite your participation.
At the Armory, we created a five-part strategy to uncover the physical and social qualities and potentials of the building:
A collective social history timeline to generate individual, shared, and possibly conflicting memories and associations with the Armory.
An architectural vocabulary to introduce a descriptive language for the building's physical and spatial presence.
An urban diagram that draws connections and suggests relationships at the scale of the neighborhood and the city.
A precedents study, suggesting models of continuing use, adaptation, and stewardship of old armory buildings.
And a forum on armory futures, featuring a cut-a-way model to imagine new programs and activities for the Goffe Street Armory.
Excavating the Armory is a collaboration between the Yale School of Architecture's Urban Research and Representation seminar, led by Elihu Rubin; high school students from the New Haven Academy; and Artspace New Haven.
Yale School of Architecture:  Isabel Balda Moncayo, Jonathan Hopkins, Jincy Kunnatharayil, Javier Perez, Evan Sale, Armaan Shah, Priya Sheth, Fran Xavier
New Haven Academy: Justin Aresta, Alexis Badger, Katie Castillo, Karynn Hardy, Karlyse Pollard, Daniel Ramirez
Thank you: Greg Baldwin, Deborah Berke, Sarah Fritchey, Meredith Gavrin, Nadine Horton, Helen Kauder, Bill MacMullen, Marium Majid